vrvrvr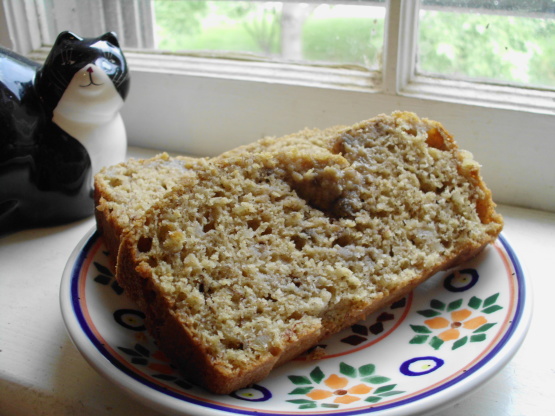 This is the best Banana Nut Bread I have ever had and it is healthy for you. I used my Bread Maker but next time I am going to try and just bake it in a loaf pan. I am also going to try and use a little bit less sugar. I also used a unbleached white/multi-grain flour which I purchased at Costco. This recipe was adapted from another recipe on Recipezaar to be healthier. It is a good basic recipe that you can alter to create your own.
Into baking pan measure flour, sugar, baking powder, soda, salt and cinnamon.
Add applesauce, eggs, yogurt, mashed bananas, vanilla and nuts.
Insert pan securely into unit; close lid.
Select "Quick Bread Cycle" setting (mine has an 85 minute cycle); press Start.
The "Complete" light will flash when bread is done.
Using hotpads, remove pan from unit and remove bread from pan.
Let cool for 10 minutes.