Healthy Apple Energy Loaf
ImPat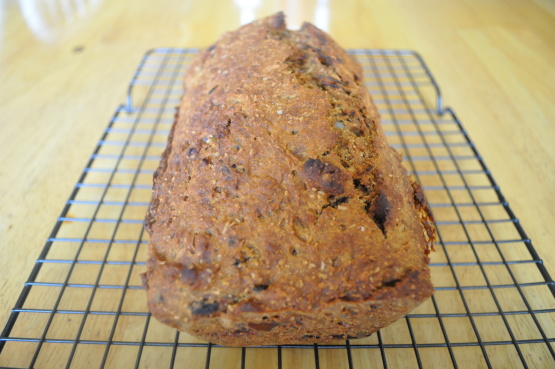 I've adapted this from a Rosemary Stanton recipe putting my own little twist on things. This loaf is a bit healthier than many regular loaf and cake recipes. It's free of lactose, butter and eggs and is a great snack when you're on the move or looking for a healthier alternative to satisfy those indulgent cravings!

Top Review by ImPat
I made this for the DS's music recreation group where it was enjoyed. I baked at 165C fan forced for 40 minutes and did sub macadamias for the walnuts but it was enjoyed though there was a general comment it would have been nicer with a bit of butter on the slice. Thank you Hayley_11 for a good nice healthy cake recipe, made for ZAAR Chef Alphabet Soup.
In a small saucepan heat the dates, honey, bicarbonate soda, apple juice and the reserved apple juice. Bring to the boil whilst stirring then allow to simmer for 2-3 minutes. Remove from heat and allow to cool slightly.
In a large mixing bowl mix togther the apple, walnuts, flour and baking powder. Make a little well in the centre and pour in the contents of the saucepan. Mix well until all combined.
Pour the mixture into a lined 14 x 21 loaf tin and bake in a moderate oven for 40 minutes, or until the centre is cooked. Allow to cool before cutting into slices.