Healthy and Tasty Banana Bread
Annacia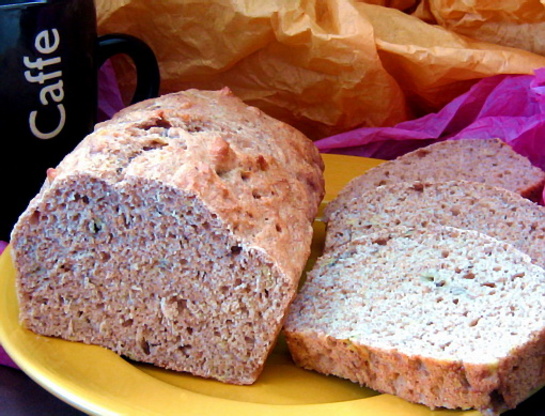 This is a whole-wheat, reduced-fat, no-sugar-added banana bread that still tastes pretty good (in my opinion). The texture is between a cake and traditional banana bread. It also tastes nice with a crumble topping (not included in the recipe).

With the use of only the egg whites (1/2 a cup) there is only a trace amount of fat in this. I used 2/3 cup of Splenda and that was the right amount of sweetness for me and I doubled the cinnamon. The vinegar ( apple cider) added an interesting and good flavor point in this recipe that, for me, is unique in banana bread. I baked in a small loaf pan @350 for 40 mins and it was completely done. I don't think that the 16 servings is very realistic though. I cut 4 slices and that took almost half of the loaf. Just now I actually measured the thickness of the slices out of curiosity and they are a hair's breath over a 1/2 inch so I think that 10 servings from the loaf is more like it. It's a more compact bread than most that has excellent flavor and high satisfaction points for a bread that is (in my case) almost totally far and sugar free. Made for Pac, Spring 09.
Preheat the oven to 375°F.
Spray a loaf pan or a round pan with non-stick cooking spray.
Mix the first four dry ingredients.
Mix the splenda and the wet ingredients.
Combine the wet and the dry mixtures.
Pour into the pan and bake for 40-60 minutes, depending on the pan that you used.