Healthy and Easy Chicken and Biscuits Casserole
Juju Bee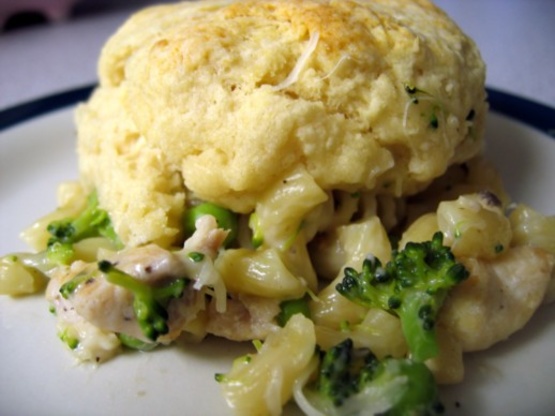 This is my version of Campbell's Easy Chicken and Biscuits. It makes great use of leftover chicken, and is a fast and easy meal.

It tastes like a pot pie. It is very good and was a huge hit at the dinner party! It is easy to make and doesn't take long at all. I will definitely make this again!
1

(10 3/4 ounce) can low-fat cream of celery soup

1

(10 3/4 ounce) can low-fat cream of potato soup or 1 (10 3/4 ounce) can low-fat cream of chicken soup
1 1⁄2 lbs chicken breasts, cooked and cut up

4

cups frozen broccoli carrots cauliflower mix

1

cup skim milk
1⁄4 teaspoon dried thyme leaves

1

teaspoon dried parsley
1⁄4 teaspoon celery seed
1⁄4 teaspoon paprika
1⁄4 teaspoon pepper
1⁄4 teaspoon savory

1

(16 1/3 ounce) can refrigerated reduced-fat buttermilk biscuits
Blend soups and milk in large skillet on low heat.
Add herbs and spices and mix well.
Add cooked cut up chicken and frozen vegetables.
Heat to warm vegetables and chicken.
Put in large ovenproof dish and bake in 400 degree oven for 15 minute.
Take chicken dish out of oven and stir well.
Cut up biscuits into fourths and top chicken with biscuts.
Bake another 15 minute until biscuits are browned.