Healthy Alternative Buttermilk Pancakes
VickiVSN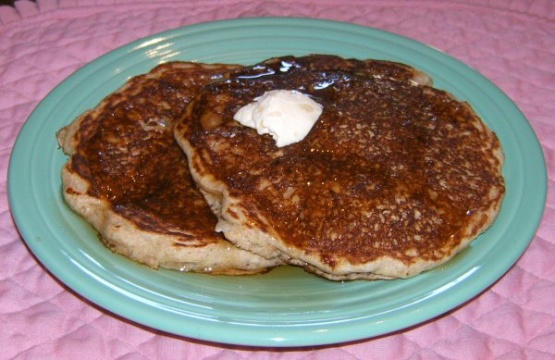 These pancakes forgo the white flour, sugar, and oil with healthy substitutes. So good, the hubby won't even know the difference.

These were great! I used skim milk for the buttermilk, skipped the sugar & prune puree & topped with fresh fruit & a natural dark chocolate peanut butter spread. Wonderful!!
Mix together dry ingredients.
In a separate bowl lightly beat together egg, buttermilk, and apple butter (prune puree may be substituted for any pureed fruit or fat replacement product).
Mix dry and wet together.
Let stand a few minutes for oat bran to absorb the liquid. Preheat griddle to medium high.
Spray with non-stick spray, scoop about 1/3 cup of batter onto griddle. Optionally, add fresh fruit such as bananas or blueberries to pancake at this point. When starts to bubble, flip and cook a minute more.