PaulaG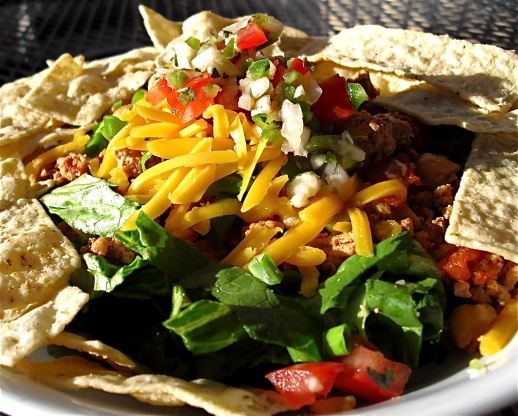 This is an adaptation of a recipe found at eatbetteramerica.com. I plan to make it tonight, so if this recipe goes public you'll know it was a good experience :).
In 10-inch nonstick skillet, cook beef over medium-high heat 5 to 7 minutes, stirring frequently, until thoroughly cooked; drain. Stir in water, chili powder, cumin and ground red pepper; reduce heat to medium-low. Cook about 5 minutes or until most of liquid has evaporated.
2. Divide lettuce among 6 salad plates; top each with meat mixture and remaining ingredients except chips. Arrange chips around salad. Serve immediately.
3. If you are in a hurry you can just combine all but the chips in a large bowl and serve with chips on the side.