Healthified Easy No-Yeast Thin Pizza Crust
Mike L.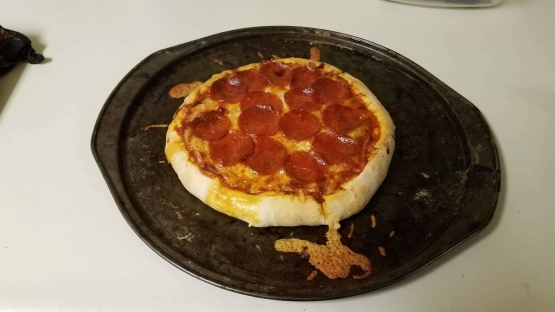 This is from Eat Better America, I didn't care for the toppings listed but this pizza crust sounded good and doesn't call for yeast. Can be easily made vegan with soymilk or a nut milk, or using water or broth in place of the milk.

Top Review by JPerez
My husband and I loved this crust. Nice crispy, cracker-like outer edge with just a little chewiness in the middle. Next time, I'll use part whole wheat flour. This reminded me of the flatbread appetizers you get in restaurants. I'll use this recipe often!! REVISED 9/7/12: We just cannot get enough of this recipe!! I've probably made it 6 times in a month. Such a nice, crisp texture. I've used this to make steak flatbread with caramelized onions and feta cheese as well as traditional flatbread pizza. I'm so glad to have this recipe!
Heat oven to 400°F
In medium bowl, mix flour, baking powder and salt. Stir in milk and oil until soft dough forms. If dough is dry, stir in 1 to 2 tablespoons additional liquid.
On lightly floured surface, knead dough 10 times. Shape dough into ball. Cover with bowl; let stand 10 minutes.
Place dough on ungreased cookie sheet; flatten slightly. Roll out to 12-inch round pizza pan. Poke holes in the dough with a fork.
Bake 8 minutes at 400°F, then put on the toppings and bake for another 20-25 minutes until they are cooked.