Healthier Turkey Meatballs W/Dipping Sauce
Prep 20 mins
Cook 20 mins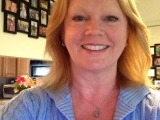 I made these up today just off the top of my head. They came out very good and they are super easy to make. Serving are up to you, however you plan to use them so I had to guesstimate.
Directions
Mix all ingredients together using your hands until combined. Form into balls-I use a small cookie dough scoop so the balls all come out the same size.
Bake in preheated 400° oven for 20-25 minutes.
Dipping sauce: Mix together ketchup, Worcestershire sauce and horseradish.
Most Helpful
I made the meatballs with ground beef I didn't have turkey. I also used frozen spinach, breadcrumbs instead of oats and added a egg. They came out really good I would make them again.
I made some of these tonight, and froze some. Great for a meal and a appetizer. PAC 07 choice an a keepr once again !