Healthier Than Kraft Macaroni & Cheese
Nif_H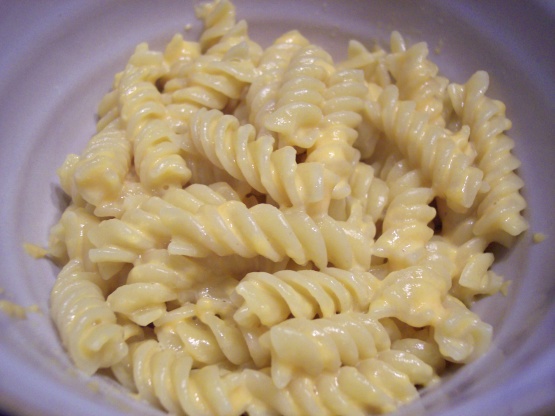 The cheese sauce should be made a day before, but other than that, this is a quick & easy recipe that tastes a lot like Kraft Macaroni. I like it because it can be made with no food coloring or preservatives, and I can add other cheeses for a different flavor. Since I can't eat the "real stuff," this makes a good substitute.

Top Review by Nif_H
The flavour of this was quite tasty. I used low fat cheddar which took the fat content down quite a bit. I took a couple of stars off though :( . One because the instructions were confusing in step 9 and beyond. I wasn't sure if I was to use all of the sauce and if I was, it's only 3 or so cups of cooked pasta, so that's a lot of sauce! I ended up tripling the pasta for the amount of sauce and it was about right. The other star was because it was an awful lot of work. It did taste good, but I don't think I would go to all of the trouble for it again. Made for My 3 Chefs tag. Thanks! :)
Prepare Sauce: Cut cheese into small pieces and melt in double boiler.
Add evaporated milk, salt and mustard.
Remove from heat & stir in egg whites. Return to double boiler. Cook, stirring, until egg whites thicken slightly. Remove from heat.
Pour into dish & cover with plastic wrap.
Refrigerate until well cooled.
Prepare macaroni:.
Over high heat, Bring water to boil in a large saucepan.
Add macaroni & cook for 10-12 minutes until tender, stirring occasionally.
Mix cheddar cheese, 1/2 c previously prepared cheese sauce, and milk in double boiler over medium heat, stirring. Add salt.
When melted & smooth, cover & set aside.
When macaroni is cooked, drain excess water but do not rinse. Mix in cheese sauce/cheddar mix until well blended, and serve.