Healthier Oatmeal Cookies
Annacia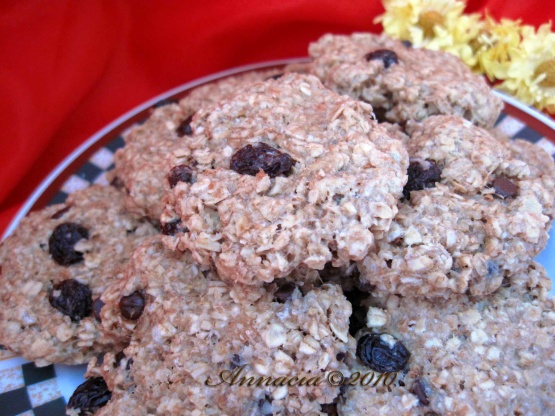 I adapted tollhouses choc chip recipe to become containing oatmeal and healthier. I froze them, so i have a cookie fix ready and on hand. I really like the texture and flavor of these coming out of the freezer. I don't really like most fresh baked cookies.

I really love the low fat and sugar content in these and they taste very good (DH thinks that they taste like "bread" because for him they have "no sweetness at all"). I think that the baking time might be a bit longer, mine baked for 8-9 mins and still had a doughyness to them. I got 19 cookies so the recipe is on the mark for yield as I made 3 bigger than the others. This is going into my Diabetic Pleasures cookbook :D.
preheat 375°F.
mix water, flax, margarine, sugar, sweet n low, egg, and vanilla.
I just dump all dry stuff on top, mix it on top and then stir into the wet. (most recipes say mix dry in another bowl first. I like less bowls to clean.).
once wet and dry are mixed, add raisins and choc. chips.
drop by heaping tablespoon full onto cookie sheet. they don't really melt and flatten as they cook. Soo, you need to moosh with spoon or fork to about 1/3 inch.
bake 7? minutes.
let cool
then freeze
enjoy when ever the cookie monster in you hits.