Healthier Lasagna/Lasagne
-Sylvie-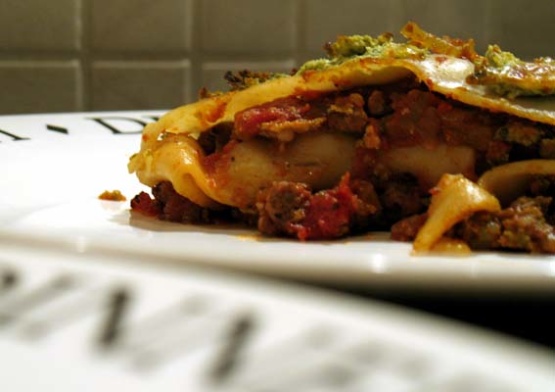 I found this recipe in Men's Health magazine. Considering it is far lower in calorie content than a standard lasagne it really is very tasty. It cuts down on all the fatty and calorie rich ingredients, such as the mozzarella and ground meat and packs in a lot of extra vegetables.

I found that this took longer than 10 minutes to prepare. Maybe I'm slow but I also changed the receipie a bit. It took me 45 minutes to prepare. I didn't use any meat instead I used extra spinach (about 1 pound) and 4 cups mushrooms. I added the mushrooms to the sauce and I cooked down the extra spinach in a hot dry skillet until it wilted then added it to the lasagne insted of the meat layer. Instead of celery I used a yellow pepper and I added 3 more cloves of garlic. I omitted the suger and replaced it with crushed red chilli and added a splash of Balsamic Viniger to the sauce. I used 2 whole eggs in the cheese sauce instead of just the whites and didn't cover with foil to cook simply because I didn't have any. I omitted the Mozzarella and instead used a light sprinkeling of grated parmesan. It was delicious! Thanks for the receipie it was fun to play around with it and make it vegetarian!
1⁄2 lb extra lean ground beef

1

medium onion, chopped

2

garlic cloves, minced

1

stalk celery, finely chopped

1

medium carrot, finely chopped

1

cup chopped mushroom

1

teaspoon oregano, dried

1

teaspoon basil, dried

1

tablespoon sugar

2

(14 ounce) cans chopped tomatoes

2

tablespoons tomato paste

10

ounces fresh spinach, chopped

1

medium zucchini, grated (see note)

2

egg whites

6

no-boil lasagna noodles
1 3⁄4 ounces low fat mozzarella, grated
salt, to taste
black pepper, to taste
Preheat your oven to 190C/375F/Gas 5.
In a non stick frying pan, brown the meat for about 7 minutes. Season with salt.
Drain any excess fat from the pan by placing the meat into a sieve, keep aside.
In the same pan, fry the onion, garlic, celery, carrot and mushrooms in a little olive oil for about five minutes.
Add the meat back to the pan and add the tomato paste and chopped tomatoes at the same time.
Season using the oregano, basil and sugar. Add salt and black pepper to taste.
Simmer for about 15 minutes.
In the meantime add the spinach, zucchini, cottage cheese and egg whites together in a bowl. Using a hand blender of food processor, blitz the ingredients until you achieve a sauce.
Spread 1/4 of the tomato sauce in the bottom of a large lasagne dish. Cover with three lasange sheets. Next add another layer, using another 1/4 of the tomato sauce and then cover with half the cottage cheese sauce. Place the remaining three lasagne sheets over the top and cover with the remaining cottage cheese sauce.
Cover with tin foil and bake for 45 minutes. After that time, remove the foil and top with the grated mozzarella cheese. Then return to the oven for a further 15 minutes.
Serve with a green side salad.
Note: As zuccini contain a lot of water, you might first want to place the grated pieces in a collander and sprinkle them with a little salt. Squeeze out any excess water before adding with the other ingredients. This is optional.