Nimz1466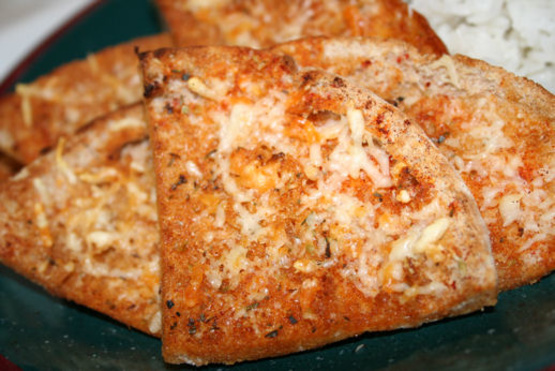 We love garlic bread but hate filling up on all the bread. So when I saw this made on food tv, I had to try it. It is easy and does satisfy our garlic bread cravings without all the bread. I didn't have any garlic cloves so used garlic powder instead. Adjust the seasonings to your own taste.

Wish I could say that we liked this just as much as regular garlic bread, but we thought it was just okay and I found preparing the pita without destroying it to be kind of a challenge. This bread is crisp with a very subtle garlic flavor. I probably would have liked it better if I hadn't been thinking "garlic bread", but as it was, this actually made me crave fresh garlicky, buttery garlic bread more than satisfy any craving. Thanks anyway.
Preheat broiler.
Cut a slit on both sides of the pita and gently pry (or cut) the pita so that you have 2 circles from each pita.
Lightly brush the rough side with olive oil.
Rub each pita circle with the garlic clove.
Cut each pita circle into quarters.
Arrange the pita pieces on a cookie sheet, single layer.
Sprinkle the parmesan, salt, paprika and oregano over the pita pieces.
Place 6 inches from broiler and broil 2-3 minutes or until golden brown.
***Watch them carefully while broiling as they will quickly go from finished to burnt.