Boomette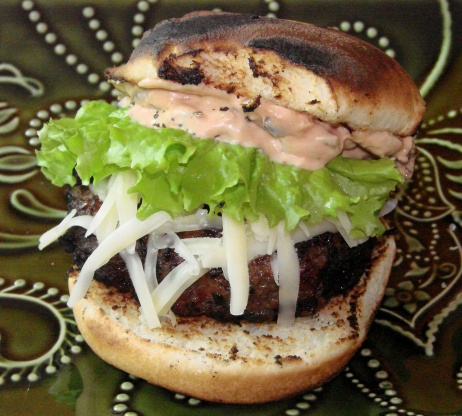 I got this from Everyday with Rachael Ray. It's a good mag.
I used button mushrooms, that's what I had. I used also 8 ounces. It was great in the burgers. That make them healthier and doesn't affect the taste. They are really yummy. And I loved the sauce on top. I used tomato paste. Thanks Cook Tara :) Made for Alphabet tag game
Preheat a grill to medium. ln a large nonstick skillet, heat 2 teaspoons olive oil over medium heat.
Add the mushrooms; season with pepper and cook, turning occasionally, until browned and tender, about 5 minutes.
Add 2 tablespoons water and cook, turning the mushrooms once, until the water is evaporated.
Transfer to a cutting board and let cool.
Rince the skillet.
Finely chop the mushrooms and transfer to a bowl.
Add the remaining 2 teaspoons olive oil and the onion to the skillet.
Season with pepper and cook over medium heat, stirring, until the onion is tender and golden, about 3 minutes;
Let cool. Add half of the onion and the ground beef to the mushrooms.
Season with salt and mix well. Form the mixture into a ball, transfer to a board and cut into 8 portions.
Form each into 3- to 4—inch patties.
Transfer the remaining onion to a small bowl, then stir in the mayonnaise and tomato paste.
Spread the sauce on both faces of the rolls and arrange open—faced on each of the plates. Divide half of the lettuce among the roll bottoms.
Add the patties to the grill and cook for about 2 minutes.
Flip, divide the cheese among the patties, cover with foil and cook until melted, about l minute.
Stack 2 patties on each roll bottom, top with the pickle slices and remaining lettuce and set the roll tops in place.