Tashi123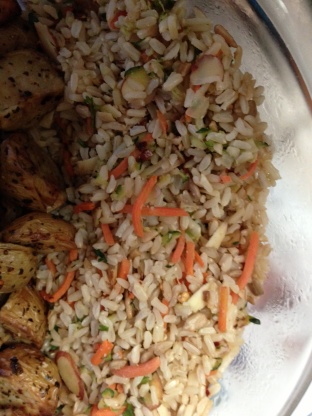 Not a clue where I got this recipe. It makes for a nice change of pace and goes well with either chicken or fish.

Even not having every ingredient on hand, it was still delicious! I didn't have zucchini, so used 1/2 cup finely diced celery and about 1/4 cup diced onion in addition to the grated carrot. I doubled the sunflower seeds. I also didn't have red pepper flakes on hand, so missed out on the heat. That said, it was really good! It had a great crunchy texture; the rice was nice and fluffy--not gooey. Because I am not a health nut, I added 2 tablespoons of butter in with the rice and broth. We also salted at table-it is a lower salt recipe. As I was making it, I thought raisins or other dried fruit would be good also. Paula G, thanks for another super recipe! We eat a lot of brown rice and I will be making this often!
Add the rice to the broth, bring to a boil.
Reduce heat, cover the pan with a tight fitting lid and cook for 50 minutes.
Allow the rice to sit covered for 10 minutes.
When the rice is almost done, cook the carrot and zucchini in olive oil for 2 minutes.
Add sunflower kernnels, almonds and pepper flakes.
Cook over medium-high heat until the almonds are browned.
Add rice and parsley; stir until heated.