Debber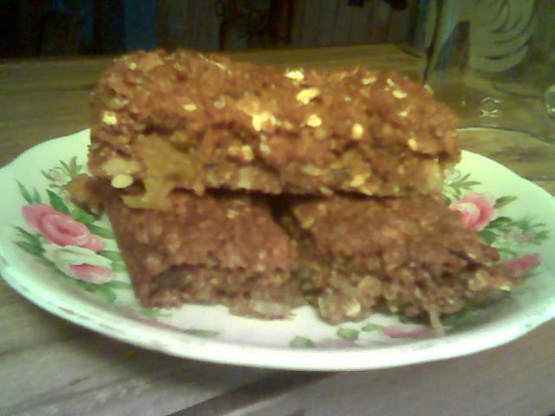 This is one of my childhood favourites that my nana used to make when ever I visited her in Sydney.

Top Review by Debber
Ooooh, ooooh, oooh! Yummy-ola! Your nana had a very good idea! These are like BETTER than any kind of store-bought granola bar. Great as a snack for the kids in the p.m. or for a breakfast bar with a banana and glass of milk. KEEPER! *Made for PAC Spring 2007*
Melt butter and honey together.
Stir dried ingredients together.
Mix in melted butter and honey and egg.
Grease 8"x12" tin. Line with baking paper.
Moderate oven until light golden colour.
Take out when its still soft in centre.