Healing Ginger Detox Tea With Turmeric
Rita1652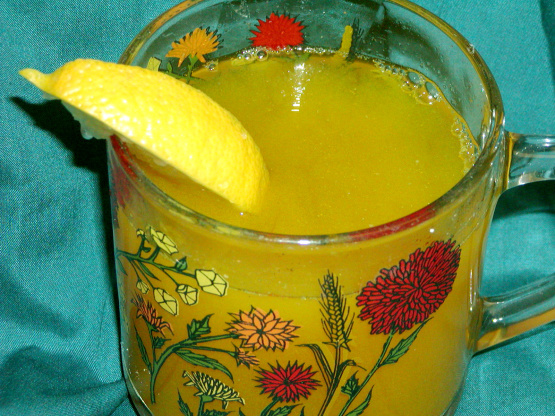 Adapted from The Seasonal Detox Diet, by Carrie L'Esperance. There has been a lot in the news lately about the amazing healing properties of turmeric, a free-radical-fighting antioxidant-rich spice that has been hailed as a defense against both cancer and Alzheimer's.

I am so glad I found this recipe. I have a teen son with cancer, and have studied on foods that can possibly help later in his years with recurrence etc. Apparently, turmeric is one of the most powerful spices there are, along with ginger and green tea. I read a book called Anti Cancer: A New Way of LIfe. Studies show that a pinch (just a pinch) of black pepper increases the power of the turmeric by 1000 times. I dashed it in my tea and although it doesn't look pleasing, I didn't taste any difference! This has grown on me, a die hard coffee and diet coke drinker. My son likes it too. Thanks!!!
Bring water to a boil, then add powdered herbs. Simmer for 10 minutes.
Strain tea into a mug, add maple syrup and lemon, stirring to combine. Drink warm.