"he Proposed!" Red Velvet Cake
jennseay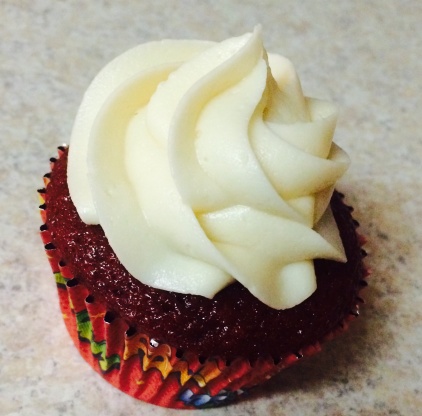 This may sound cocky, but seriously, stop looking for an amazing, homemade red velvet cake recipe because here she is!!! I've had three professional wedding cake bakers ask me for this ridiculously moist recipe. Not only is this red velvet cake "stick to the back of the fork" moist, but it's so soft with that perfect red velvety chocolate taste. Frost with whipped cream cheese icing and perfecto!!

OMG, I have been looking for a red velvet recipe and have only found the oily blah recipes. However, I have to search no more. This recipe was great and I only made two small changes. I only used 3/4 cups of oil ( to avoid an oily cake). I also mixed the vinegar and baking soda together and added it to the the wet mix. This cakes needs to be made the night before, because something happens that makes you raise your hand and thank God when you taste it the next day.
In a large bowl add flour, baking soda, baking powder, salt & cocoa powder. Whisk until well combined. Set Aside.
In a separate large bowl, add sugar and oil. Mix until combined.
Add in eggs, buttermilk, vanilla & red food coloring. Stir until combined.Next add in the coffee & vinegar. Stir until combined.
Next add in the coffee & vinegar. Stir until combined.
Pour the flour mixture into the sugar mixture a little at a time. Beating until well combined.
Pour the batter into 2 greased & flour 9 inch round cake pans. Bake for 30-40 minutes at 350 or until toothpick inserted into center comes out clean. Another way to check for doneness is to lightly press the cake on top, if it springs back then it is done, if the dent remains in the cake then it is not done. Do not overbake.
When the cakes are done let them cool in the pan for about 10-15 minutes. Then remove them from the pan and let them finish cooling on a wire rack.