Hazelnut Shortbread Cookies
mianbao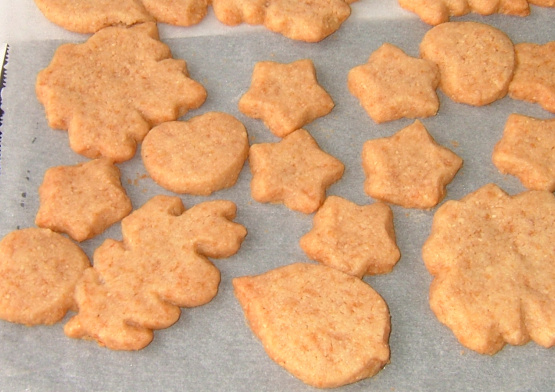 Originally from "1001 Cookie Recipes".

These are lovely cookies, tasting of pure hazelnut and butter, with no vanilla, cinnamon or other flavors to get in the way. (I do like vanilla and cinnamon in other things.) I used my food processor to chop the hazelnuts and also to mix the dough, so it was very easy. The dough was very soft - which worried me a little - but after spending the night in the refrigerator, it was quite easy to roll out and bake. The cookies spread a little, but generally held the cutout shapes. Thank you very much for posting this wonderful recipe.
Combine flour and hazelnuts.
In a large bowl, cream the butter and brown sugar.
Gradually blend in the dry ingredients.
Cover and chill for 8 hours or overnight.
Preheat oven to 300 degrees Fahrenheit.
Lightly grease cookie sheets.
On a floured surface, roll out the dough to a thickness of 1/4".
Using cookie cutters, cut out the shapes and place on prepared cookie sheets 1-1/2" apart.
Bake for 20 to 25 minutes until lightly colored.
Transfer to wire racks to cool.