Hazelnut Hot Chocolate Liqueur
Mandy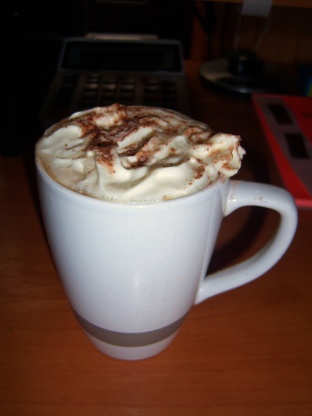 I got given some different flavour powdered coffee creamers in a swap so went searching for recipes, I just love the sound of this one, anything with kahlua & frangelico is good by me!
295.73

ml hot water

73.94

ml french vanilla powdered coffee creamer

44.37

ml baking cocoa or 44.37 ml hot chocolate powder

29.58

ml coffee liqueur

29.58

ml hazelnut-flavored liqueur
whipped cream (optional)
COMBINE water, Coffee-mate and cocoa in pitcher; stir until dissolved. Stir in coffee liqueur and hazelnut liqueur. Divide between 2 mugs; top with whipped cream.