J-Lynn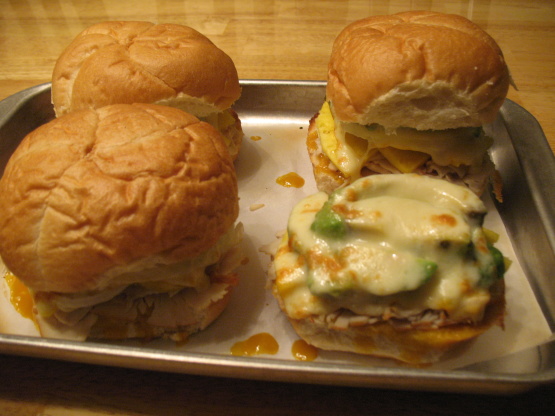 A favorite with my family. Easy, tasty, and filling. Recipe from French's Mustard.

Top Review by J-Lynn
Delicious, and so quick and easy! I mixed honey and regular mustard instead of buying 'honey mustard'; I also used fresh pineapple- yum! These sandwiches are so big! We decided to eat them without the top half of the roll, and were still full after each of us eating 1 1/2 sandwich! In the future I might try it without the turkey; I think the flavor would be just as good.
In a small bowl, mix together the mustard, vinegar, and oil.
Spread mustard mixture on bottom half of rolls.
Layer turkey, pineapple, onion, avocado, and cheese on top.
Place under broiler 20 seconds or until cheese melts.
Cover with lettuce and top halves of rolls.
Cut in half and serve.