Kana K.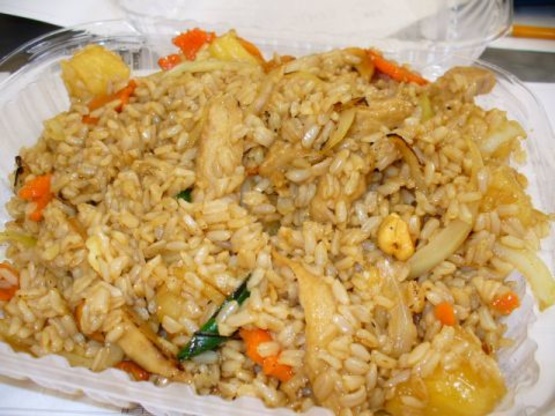 Funny how adding pineapple to any dish makes it "Hawaiian" but hey, that's the name it had when I got it. A really nice twist on fried rice.

This is so yummy! It's simple and you can add your own twists to it. I added some garlic butter I had in the fridge, as well as some leftover steamed greeen peas. Also, I cooked the rice in chicken broth - added flavor. Very simple, yet delicious! Everyone at the bbq I brought this to, loved it.
Heat oil, and add the chicken, rice, onions, carrots, soy sauce and sesame oil.
Stir-fry until hot (about 2 minutes).
Add the egg and continue stirring while cooking adding pepper to taste.
Add pineapple to warm rice and serve.
Note: Always use cold cooked rice for stir fry, it's the secret.