ImPat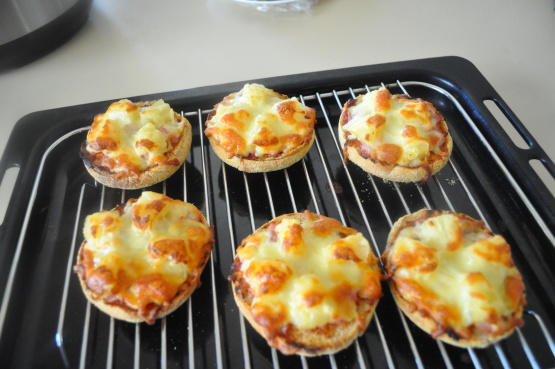 This is an unusual take on pizza. It makes a great little snack. The original recipe comes from More Fun and Flavour with Spices. You could add other toppings if you wish.

Top Review by ImPat
These made a great light lunch - I used a wholemeal English muffin and as the gremlins had got to my spicy salami I used a smoked ham, the pineapple and sprinkled the top with grated mozzarella/cheddar/parmesan blend of cheeses. For the sauce I made up using tomato paste, fresh basil, oregano and garlic finely chopped and mixed into the paste. Thank you Dreamer in Ontario for an enjoyable light lunch for myself, DM and DS, made for Newest ZAAR TAG (24 hour rule).
Split English muffins and top each half with a cheese slice.
Spread with pizza sauce, then top with salami and pineapple.
Sprinkle with oregano.
Bake in 400F oven for 15 minutes.