Hawaiian Mahi Mahi Sliders
Kzim4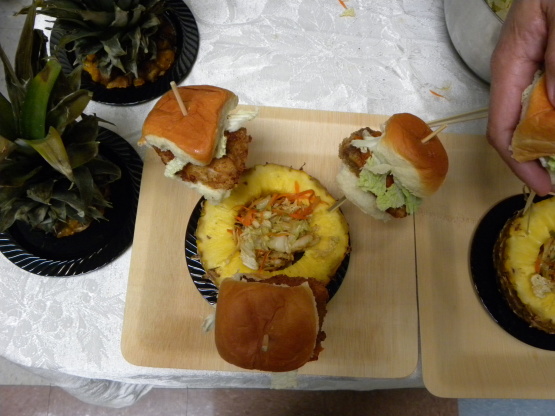 This is a Hawaiian inspired recipe that I have created for my entry to Iron Chef Arizona. First is a panko crusted Mahi Mahi slider on King's Hawaiian roll with green cabbage and a pineapple/carrot chutney.
In a medium bowl, stir together the panko, bread crumbs, carrots, and pepper. Set aside. In a second bowl, beat the 3 eggs together. Place flour into a 3rd bowl.
Dip mahi mahi into flour, and then into beaten egg. Then place into panko mix and make sure is coated completely. Once coated pan fry fish in med hi heat til done or until the crust is golden brown, inside should have a hint of light pink right in the center.
Remove from the pan and allow to stand 5 minutes before serving.
Chutney:.
Combine all ingredients except shredded carrots in a medium saucepan. Bring to a boil.
Reduce heat to a simmer and cook gently 20 minutes. Using an immersion blender, puree chutney. Stir in shredded carrot, and simmer an additional 30 minutes to reduce and thicken.
Stir often to keep chutney from scorching.
Combining it all:.
slice roll in half.
Place mahi mahi on base of roll. Add a slice of the green cabbage. Then add a dollop of chutney on top of the cabbage. Top it off with the lid of the roll and enjoy!