Hawaiian Ham and Swiss Sandwich
teresas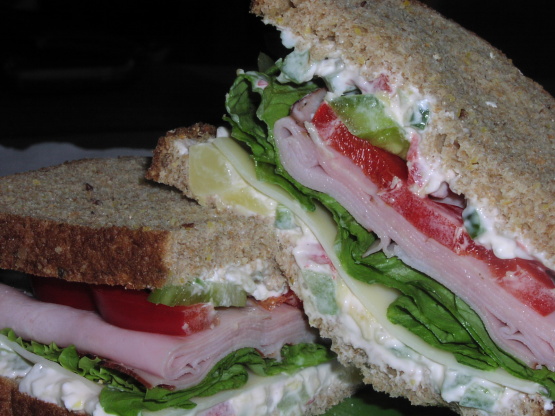 I love the combination of pineapple and ham on a pizza... When I found this recipe that brings them together on a sandwich, I was so excited.... It is really good....This sandwich has the perfect combination of pineapple and ham with the bite of jalapeño peppers....This recipe can easily be cut down to make less than 8....

This was truly delicious,and really filling!! Instead of sliced bread,I used a chunk of freshly baked baguette. I just loved the contrast of the cool creamy cream cheese with the sweetness of the pineapple and the heat of the jalapeno....absolutely delicious....then with the crunch of pepper and the great flavours of the ham and cheese...awesome..I'm hooked!!
Cut 8 rings each from red and green bell peppers; set aside.
Finely chop remaining bell peppers. Combine chopped bell peppers, chopped jalapeño, cream cheese and pineapple in medium bowl; mix well.
Spread 1 side of each bread slice with 2 tablespoons pineapple spread. Layer 1 bread slice, spread-side up, with 1 slice cheese, 1 lettuce leaf, 1/8 ham, 1 red pepper ring, 1 green pepper ring and 1 bread slice, spread-side down.