Prose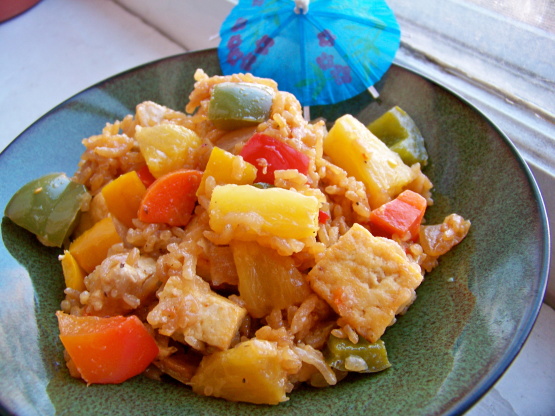 This delicious fried rice recipe is from the Westin Maui, Hawaii; where they serve it in a fancy version of a Chinese take-home box. It makes an neat party dish since it's easy to walk around while munching on the fried rice in a box.

Top Review by Prose
I made this for my luau-themed birthday party, and I will definitely make it again! It was easy and delicious. The only thing I changed was that I omitted the macadamia nuts because I'm poor. Also, I used vegetarian oyster sauce instead of regular. Thanks for sharing! My friends and I loved it.
Cook the rice the day before.
Heat a wok to medium-high and add sesame oil and saute the tofu cubes, set aside.
Add a little canola oil to the wok, add the onion, carrot and bell peppers and stir fry a few minutes.
Add the cooked rice and continue to stir fry, break up the lumps; then add the soy sauce, oyster sauce and sambal oelek.
Continue to stir-fry, adding the pineapple, macadamia nuts, and salt and pepper (to tste).