Feej3940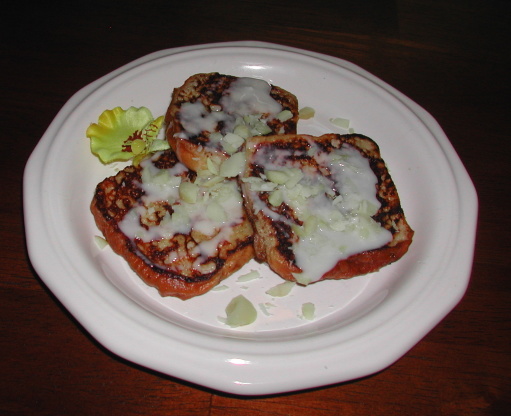 Made with King's Hawaiian Bread and topped with macadamia nuts! I found this one a long time at AlohaWorld.com. I make it as often as I can find King's Bread but then started using the sweet bread recipe I have.

I changed a couple things, because I know our tastes. I only used 1/2 cup milk. I used the butter in the pan intead of in the egg mixture & finally, I cooked on the stove top instead of in the oven. We enjoyed the sweetness of the hawaiian bread. I added the macadamia nuts. Nice touch. Even though I made some pretty big changes, we enjoyed this. So I still decided to rate it. Thank you very much!
1

loaf king's Hawaiian bread, sliced into 1 inch thick pieces

2

eggs

2

tablespoons melted butter

2

cups milk

1

tablespoon sugar (cane sugar, if you have it)

1

dash cinnamon

1

dash nutmeg, if you like (optional)
chopped macadamia nuts
coconut syrup
Blend eggs. milk, butter, sugar and spices in bowl.
Dip bread slices in milk mixture and lay on cookie sheet lined with foil.
If you have any milk mixture left over, just pour it on top of the bread slices.
Broil under your broiler, about 3 inches from heat source, about 2 -4 minutes each side, until browned to your liking.
Sprinkle with chopped macadamia nuts, and serve with coconut syrup and/or maple syrup.
This is a very easy French toast preparation and it isn't as heavy as the usual recipes which sauté the bread in butter.