Parsley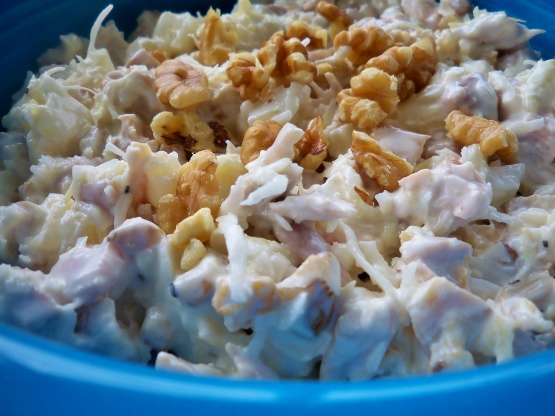 This is a terrific, sweet chicken salad with a Hawaiian flair. Great way to use up leftover chicken or turkey.

I came looking for something with these exact ingredients because I thought they'd be great together, so was tickled to find this--and I wasn't disappointed. It was great! I used chopped leg quarters, a small can of crushed pineapple, a handful of sweetened coconut, toasted pecans, half a red onion (finely chopped), a pinch of salt and balsamic mayonnaise. I served the salad over avocado halves with toasted dark rye on the side. It was to die for! :) My husband raved about it, and I most certainly will make it again. Very, very tasty. Re: the balsamic mayo, I don't think it's available commercially anymore, but I liked it well enough that I probably will add a splash of balsamic vinegar to regular mayo when I make this going forward. It added a nice little dimension. Great combo--thanks for sharing!
Combine all ingredients; blend well.
Chill.