Hawaiian Chicken Kebabs - Weight Watchers
teresas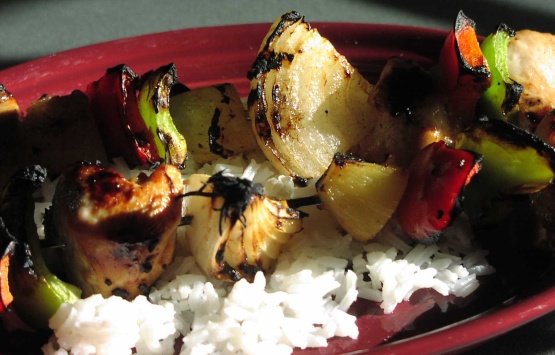 My family thought this was really good. When I made this recipe I used a large yellow pepper, and a large regular onion. I doubled the chicken and marinade. I also marinaded the vegetables with the meat and pineapple. I didn't put these on skewers I put them on foil straight on my gas grill rack. I got this recipe from Weight Watchers.

We just loved this dish. It's easy to prepare. Hardly any chopping and assembling them is so easy. The flavor is wonderful. I did use canned pineapple chunks because I didn't want to pay the high price for fresh. Worked great. This makes the right amount to fill you up. Thanks internetnut for posting.
Cut each chicken breast, pineapple, pepper and onion into approximately twenty-four 1-inch-thick pieces. Combine chicken, pineapple juice, garlic, soy sauce and oil in a large nonmetallic bowl; marinate in refrigerator for at least 1 hour and up to 24 hours.
Preheat grill. Lightly coat vegetables with cooking spray. Thread 2 pieces of pepper, pineapple, chicken and onion onto each of 8 skewers. Brush with marinade. (Note: If using wooden skewers, soak in water to prevent charring.).
Grill over medium-hot coals until chicken is completely cooked, about 8 to 10 minutes, turning kebabs every 2 minutes so they're cooked evenly on all sides. Yields 2 kebabs and 1/2 cup rice per serving.