Pops B.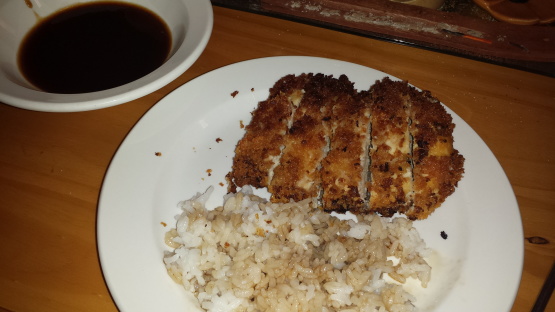 I found this recipe on the net courtesy of L&L Hawaiian Barbecue restaurant. For those of you who eat at this restaurant, you know how good their food is! Serve this with a scoop of macaroni salad and a scoop of rice to give it that island flair!
I made this recipe in Wisconsin on a day that the temperature outside was in the single digits, and it brought back memories of eating 'plate lunch' on Oahu when I was in the Navy. I loved this recipe, and it tasted just like I remember. I didn't have any chicken breasts, but I used pork instead, and it was delicious.
Open the chicken thighs and flatten with a rolling pin.
Combine eggs, cornstarch, salt, white pepper, garlic powder, and water to make a batter.
Coat chicken in the egg batter, then the roll in panko crumbs.
Fry in oil (maximum 325 degrees) until brown and crispy.
To make sauce:
Combine all ingredients and bring to a boil.
Add cornstarch dissolved in water to thicken. Chill and serve.
Cut chicken into strips and serve with sauce.