Hawaiian Bread Ham & Cheese Rolls
gertc96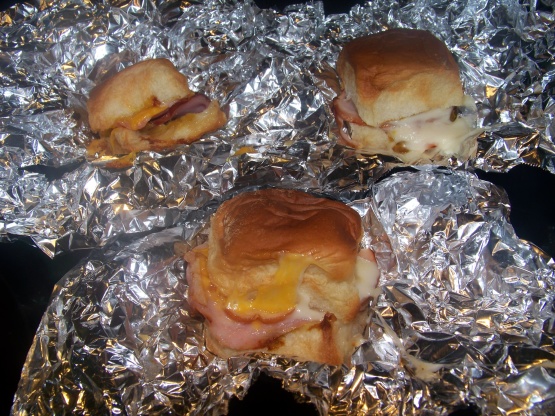 Very easy and very yummy appetizer. These can be made ahead of time and ready to pop into the oven minutes before serving. Trust me, these will be gone minutes after you set the plate down! There are similar recipes on the Zaar, but this one has all the yummy buttery goodness on the inside, not the outside, of the roll...so no messy fingers!

These were so good. I fixed them for lunch for myself, my kids and my niece and newphew that stay with us during the summer. I just cut the recipe in half and made 12 mini sandwiches. The onions made this very good. I made a combination of turkey/cheddar and ham/swiss sandwiches. I also didn't follow directions and seperated the rolls. LOL Next time, I will follow directions, as it will be much easier. Thanks for sharing. Made for New Kids on the Block Tag Game.
Combine softened butter, mustard, grated onion, poppy seeds, and Worcestershire sauce to form a spread.
Without separating the rolls, slice the rolls horizontally. Spread the butter mixture on both slices -- inside, not outside. Layer the ham and cheese on bottom slices. Top with the top slices.
Cut into individual rolls but keeping them together. Wrap each package of now cut rolls tightly in foil and refrigerate until ready to bake.
Bake at 400 degrees for about 15 minutes, or until heated and cheese is melted. Just pop the foil packets into the oven. That easy!
You can also heat them in a baking dish -- just spray a little Pam or the like on the dish.