Have Mercy on Me Spicy Lentil Soup (With Crock Pot Instructions)
scancan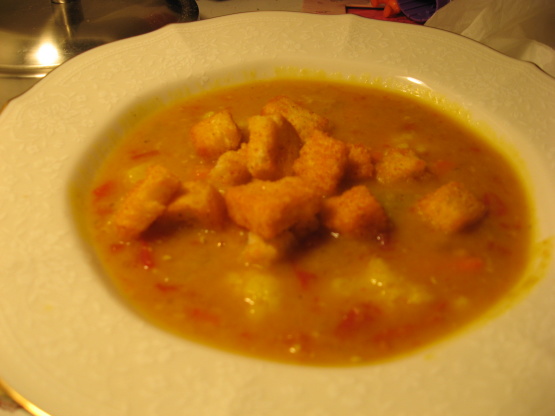 This is an adaptation of a recipe originally published in "I Like Food, Food Tastes Good: In the Kitchen with Your Favorite Bands". It's a delicious curried lentil and cauliflower soup that's filling and incredibly nutritious, and it keeps beautifully for days! You can even make it ahead and freeze it. WARNING: IF YOU FOLLOW THIS RECIPE TO THE LETTER, IT IS EXTREMELY SPICY! PLEASE PLAN ACCORDINGLY!

This soup was all heat, which I love, but no FLAVOR. I followed the recipe exactly and was very disappointed. I had to doctor it up so that it will be eaten and not thrown out. I added bay leaf, ginger, garam masala, some beef bouillon and reheated. I also added fresh sauteed cilantro and spinach. Much better!
Heat 1/4 cup olive oil in a large pot over medium-low heat. Add onions, salt, pepper, and crushed red pepper, cover and simmer for 6 minutes, or until onions are clear and soft.
(If using the crockpot, you would now transfer the onion mixture to your crockpot, add all other dry and liquid ingredients and give it a good stir, and cook on LOW for 8 hours until the lentils are soft. If using the stovetop, please continue to step 3.).
Add celery, carrots, garlic, cauliflower, curry, and cumin, and stir. Cover and let simmer for 10 minutes, stirring occasionally.
Stir in lentils, vegetable broth and tomatoes. Cover and let simmer for another 10 minutes, stirring occasionally.
Add 8 cups of water and increase to high heat, and leave uncovered until it begins to boil.
When the soup comes to a boil, reduce heat and add cayenne pepper. Let simmer for at least 2 hours, or until lentils are soft.