Havarti and Sun-Dried Tomato Cheesecake
Nimz1466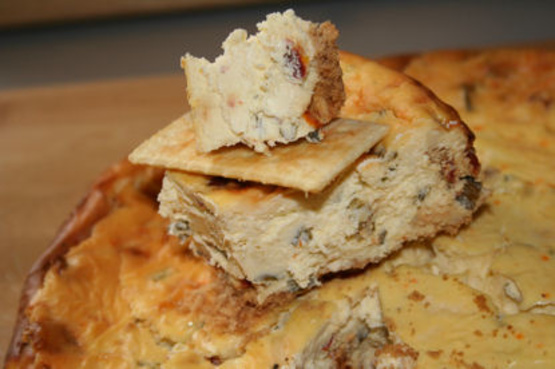 This is the most delicious appetizer! Don't be wary of the ingredients, the outcome is fabulous. My neighbor gave me this savory cheesecake recipe. The flavors are amazing and it goes well served with crackers and a bunch of grapes on the side. This is an elegant appetizer, especially if you're looking for something out of the ordinary.

Fabulous!! Well, I saw this as a post and it looked so good, I decided I had to make it. Today! So I headed to the store and back I came. It is out and came out perfectly.

I did make mine in 4 small individual gratin dishes. I guess about 5-6" round and 2" deep. I lined mine with parchment paper and sprayed with non stick so I could pull the whole piece out after it cooled. This way I can use it for 4 different things this week.

They cooked perfectly, but obviously, the cooking time did change. Just check like any cake with a knife in the center. I cooled and pulled out using the parchment as handles and it came out perfectly round. Very easy. Makes for fun smaller gifts.

Made it exactly as the recipe stated and I can't wait to try for lunch.

One note ... You may want to note; soft havarti or not aged vs aged. One is soft and creamy like Brie, the other is hard.

But loved it. I would of used my springform, but I didn't need a large serving, so that is why I did this. It would be gorgeous as a whole cheesecake.

Great flavor, easy and really tasty. On my list for another time.
Thx LIG
Kim
Preheat oven to 375 degrees F.
Crust:.
Mix crackers and melted butter until well blended.
Spray a 9-10 inch round spring form pan with cooking spray.
Press cracker mixture into bottom of pan.
Bake for 10 minutes or until golden brown.
Reduce oven temperature to 325 degrees F.
Filling:.
Beat cream cheese with mixer until smooth.
Add whipping cream, eggs, the 1 T. reserved tomato liquid and beat until creamy.
Stir in havarti, tomatoes and onions until well blended.
Spoon evenly over crust.
Bake 45-60 minutes or until center is set.
Run knife around the edges to loosen.
Cool completely at room temperature.
Cover and refrigerate at least 2 hours, no longer than 24 hours.
Remove side of pan and slice to serve!