Hats off Graduation Treat
Pamela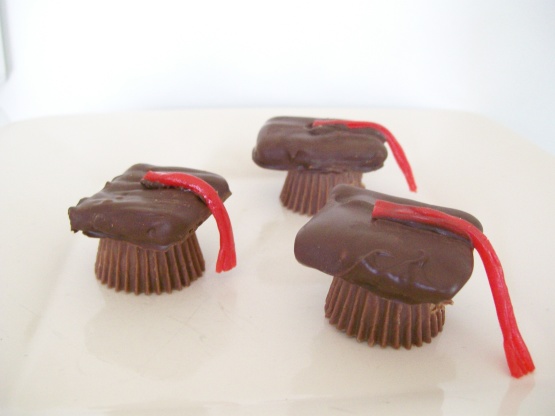 Sweeten up any graduation celebration with these clever grad caps.

What a sweet idea! My sister is graduating today from Law school, so I made these as a treat. Everyone loved them! I used After 8 chocolate mints for the caps, and mini mint chocolate cups instead of peanut butter, as I thought this would taste better. I also used icing to attach the tassles. They don't seem to sell fruit roll-ups here anymore, so I used fruit by the foot instead. Really cool idea you have here, thanks for sharing :)
2

miniature peanut butter cups

1

teaspoon peanut butter

1

fruit roll-up
Invert a mini peanut butter cup, top it with a dollop of peanut butter, and cover it with a chocolate covered graham cracker.
For the tassel, tightly roll up a portion of fruit leather, snip some fringe on one end, and use a little water to moisten the other end. Attach the moistened end to the graham cracker.