Hasselback Potatoes (Hasselbackspotatis)
Prep 20 mins
Cook 50 mins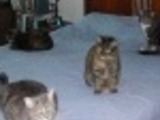 Posted for Zaar World Tour 2005. The chef, Helene Henderson, has updated this classic recipe by adding garlic, lemon and parsley. I changed this slightly to specify 1 tablespoon olive oil because she suggested simmering the garlic for 15-20 minutes in half a cup of oil and draining all except for 2 tablespoons. That would have mistakenly affected the calculation of the fat content. You could use 2 tablespoons, or just use 1 tablespoon. From The Swedish Table. I have not tried this recipe yet.
Directions
Preheat oven to 350 Fahrenheit.
Cut thin, cross-length slices three quarters of the way into each potato, and eighth of an inch apart (or as close as you can), being careful not to cut all the way through. Place in bowl of cold water to prevent discoloring. Set aside.
To prepare the topping, in small saucepan heat 1/2 cup olive oil over low heat, add garlic, and simmer until garlic is soft, about 15-20 minutes. Drain and set aside 1 tablespoon of oil. Combine garlic, bread crumbs, lemon zest, parsley, butter and salt and pepper. (Reserving lemon juice for later.).
Remove potatoes from water and pat dry with paper towels. In small baking dish, place potatoes cut side up. Divide bread-crumb mixture evenly over potatoes, and press gently into cuts using your fingertips.
Bake until potatoes are soft and browned on top, about 45 minutes. If the topping starts to burn before potatoes are done, cover loosely with aluminum foil.
While potatoes are baking prepare the vinaigrette by whisking 1 tablespoon of reserved oil into lemon juice and season with salt and pepper. Spoon a small amount of vinaigrette onto each potato.
Reviews
Most Helpful
We loved these potatoes! I baked the potatoes before hand for about 30 minutes lathered in olive oil and some kosher salt. The combination of flavors was perfect with out steak dinner! Very easy and very attractive. *Zaar World Tour 3*

Delicious potatoes, and a great side to our salmon main. Loved the textural thing going on with the soft potato and crisped topping. The lemon juice and zest was a great touch - and different from other hasselback potato recipes I've tried. Thanks.

These were yummy! FYI Cut a narrow slice from the bottom of each potato; discard the slice (this helps the potato sit flat and not roll). Then you can place two wooden chopsticks on each side of the potato lengthwise. Use a sharp knife and slice each potato crosswise, making 1/4-inch apart slices, cutting down vertically. The chopsticks will prevent the knife from cutting entirely through the potato. I was a bit confused with the oil so I just did my thing! Sauteed the garlic in 1 tablespoon oil I didn`t drain I just added the bread crumbs,lemon zest and juice, parsley, salt and pepper. Skipped the butter. I didn`t top with vinaigrette. I suggest to oil the potatoes then pre-baking them just to soften about 20 minutes then top with the yummy goodness. That would make it easier to get the flavoring into the potato.