ImPat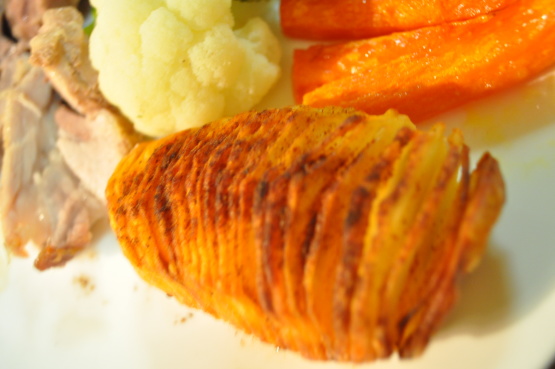 This recipe came from a magazine. I have not tried it yet.

Top Review by ImPat
We used the spicy option for 4 potatoes and though I followed the times exactly they were not quite cooked at the centre (my potatoes were maybe a little larger than medium but not much) but the taste was fantastic a lovely crisp outer and spicy flavour, will definately try the herb option too but due to allergy issues doubt the onion one will be done. Thank you Sara 76 made for Bargain Basement.
Preheat oven to 220°C Spray a shallow baking dish with olive oil.
Cut a thin slice from the bottom of each potato. Place cut side down on a work surface. Lay a wooden spoon parallel to potato. With base of knife resting on spoon handle, thinly slice each potato without cutting all the way through.
Place potatoes in prepared dish. Fan slices. Brush with 1TB of butter. Sprinkle with pepper. Bake for 1 hour.
To prepare desired topping, combine ingredients in a bowl. Mix well. Sprinkle over potatoes. Drizzle with the remaining butter. Bake for 15 minutes. serve immediately.