I'mPat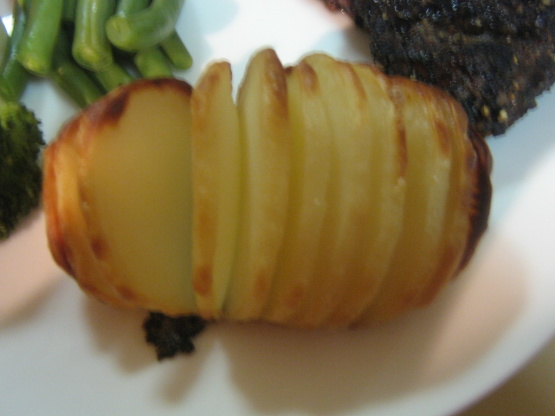 Delicious and beautiful- they turn golden and fan out during baking. Wonderful side for a holiday dinner with beef, pork or lamb.

Top Review by I'mPat
This was my first time cooking hasselback potatoes, something I have wanted to give a try for some time and will certainly be doing again. I used 4 large potatoes, which I peeled and sliced as per directions. I did spoon some melted butter down between each slice and smeared the rest over and after the first half hour of cooking at 160C fan forced oven I drizzled some cream over. Unfortunately due to another dish going into the oven we cranked up to 175C which browned the potatoes nicely but left them a little underdone in the middle of the potato, so when making again I will make sure something else that needs a different temperature is not included. Would also consider including some spices into the butter and keeping some in reserve to spoon over during baking rather than drizzling all of it over the potatoes. Thank you Cathy Z from Kauai for a great introduction into Hasselback Potatoes, made for Bargain Basement ag game.
Preheat oven to 325 degrees.
Put a chopstick or pencil along each long side of the potato so you don't cut through to the counter. Using a sharp knife, cut potatoes almost through cross-wise in 1/8" thick slices. Place in ice water to prevent darkening.
Drain well and put in shallow baking pan. Brush with butter (or drizzle).
Bake until tender- about 1-1/2 hours, basting occasionally with cream and pan drippings. Sprinkle with cheese in last few minutes.