Hash Browns Quiche - Paula Deen
Mika G.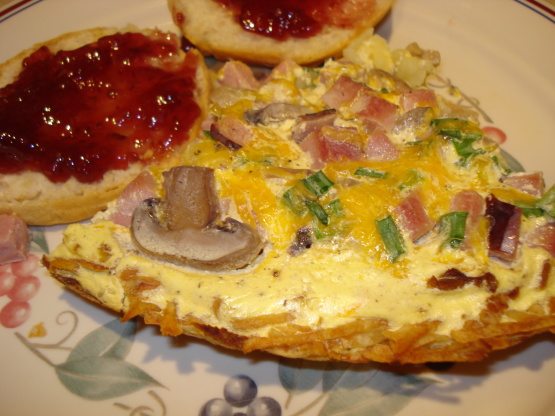 Recipes courtesy Paula Deen, 2007 Show: Paula's Home Cooking Episode: Breakfast Eggstravaganza

The only change I made to this was to use crisp bacon instead of ham. And I let it cook a little bit then sprinkled the bacon over the top so it would stay crisp. I served this for Easter brunch and everyone liked it. Thanks for sharing your delicious recipe!
Preheat oven to 450 degrees F.
Gently press the drained hash browns between paper towels to dry them as best as possible. In a 9-inch pie plate, toss the hash browns with the melted butter into the plate. Press them into the bottom and up the sides to form a crust. Bake for 20 to 25 minutes until golden brown and starting to crisp.
Meanwhile, in a large mixing bowl, combine the remaining ingredients. When the hash brown crust is ready pour the egg mixture over it and return to the oven.
Lower the oven temperature to 350 degrees F and bake for about 30 minutes until the quiche is light golden brown on top and puffed.