Brenda.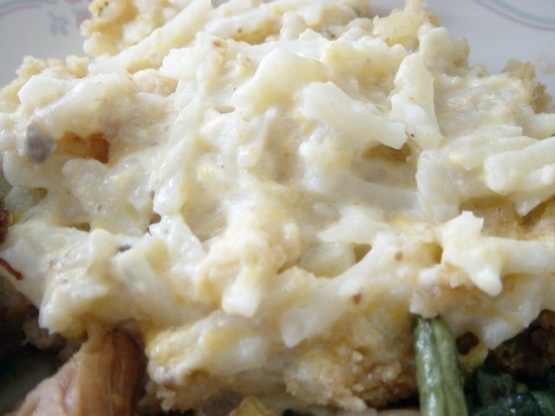 My mom makes this for most holidays, and I'm always really excited when there are leftovers for me to take home (it doesn't happen very often). It originally called for cream of chicken soup, but she changed it to cream of mushroom for us vegetarians.

These potatoes were a nice addition to Easy Teriyaki Pork Roast (No Marinating) for dinner tonight. I was going to halve the recipe and DH requested I make the full recipe so he could have these as leftovers. I've made a recipe similar to this in the past, and it is always a nice quick potato dish to put together. Thank You for sharing. Nick's Mom
Mix together all but the topping and place in a 9 x 13 pan (a deep casserole dish also works well for this). Mix together the topping ingredients and sprinkle over the top.
Bake at 350 F for 1 1/4 hours.
All set!