Hash Browns Breakfast Quiche
Srb719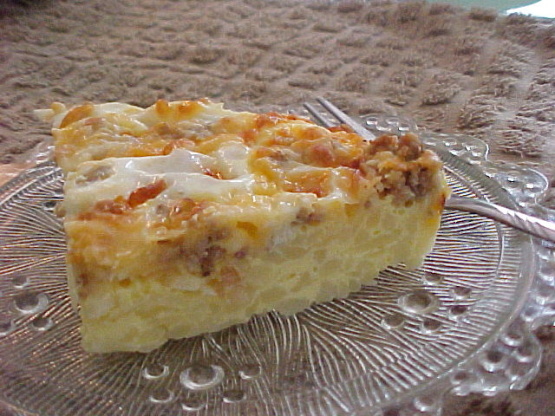 This is yummy and filling. Great for a brunch or a house full of company. Easily cut in 1/2. I have even ran out of the patties and subbed with a package of shredded hash-browns. I just cook the bottom layer longer and then the overall dish an extra 10-15 minutes.
Grease the bottom of a 9 by 13 pan.
Layer with hash-browns and pour melted butter evenly over the tops.
Bake at 350 for about 20 minutes.
Remove from oven and sprinkle the sausage evenly over the top.
Then sprinkle cheese.
In a large bowl whip eggs, milk, cream, and salt.
Pour over the casserole and bake another 30 minutes.
It should be firm in the center and browned lightly but evenly.