Hash Brown Potato Bundles
lazyme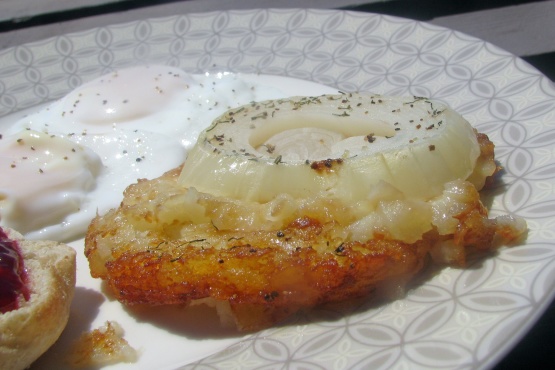 Individual servings of hash brown potatoes and chopped vegetables, mildly seasoned with butter, are a pleasant meal accompaniment. These would be great for camping trips. Recipe courtesy of Land O Lakes.
Heat oven to 375 degrees Fahrenheit.
Spray or butter part of the foil before adding the frozen hash brown patty on the square of heavy-duty aluminum foil.
Top each hash brown patty with 1 tablespoon butter, 1 slice onion, 1/4 teaspoon bouillon granules and 1/4 teaspoon dill weed(I use way less); sprinkle with salt and pepper.
Bring edges of aluminum foil to center; tightly seal top and sides.
Bake for 35 to 45 minutes or until potatoes are fork tender.
GRILLING DIRECTIONS:.
Heat gas grill on medium or charcoal grill until coals are ash white.
Place packets on grill.
Cover; grill, turning occasionally, until potatoes are fork tender (15 to 20 minutes).