Hash Brown Casserole (Cooking Light)
MollyLin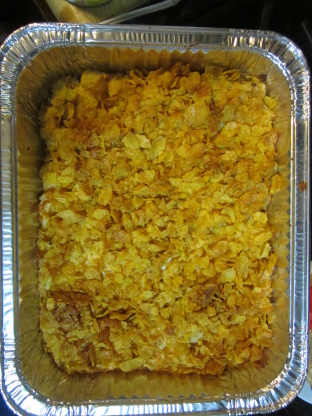 Putting this here for safe keeping. I checked and there is not one like this listed. Can't wait to try it! Family going light!

This was a church potluck in a bite! Very good and easy to make. I doubled the recipe and used plain sour cream and sour cream with chives. I didn't use any low fat/low sodium, just the regular stuff. I only had to heat the soup/cheese mixture in the microwave for 2 1/2 mins and it was plenty melted. We had this for dinner with steak and veggies, then in breakfast burritos which was amazing, then again with rotisserie chicken and green beans. Very easy and I think you could even freeze it without the topping then just take out and bake. Made for PAC Fall 2012
Preheat oven to 350.
Combine first 4 ingredients and 1 tablespoon butter in a large bowl; toss well.
Combine soup & cheese in a medium microwave-safe bowl. Microwave at HIGH 6 minutes or until cheese melts, stirring every 2 minutes. Stir in sour cream. Pour cheese mixture over potato mixture, and stir well. Spread mixture evenly in a 13 X 9-inch baking dish coated with cooking spray.
Combine cornflakes & remaining 1 tablespoon butter; sprinkle evenly over top of potato mixture. Bake at 350 for 1 hour.