Hash Brown Brunch Casserole
punkyluv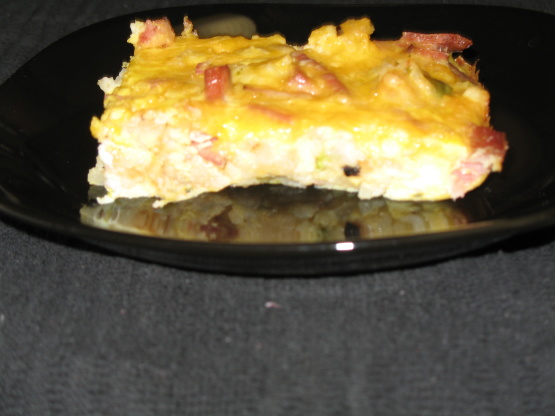 I got this from cooks.com. I didn't see one like this on here. I made this for our new years eve breakfast and hubby and i both loved it! It was so easy to make and i loved that i made it last night and just poped it in the oven in the morning while i was making the pancakes. The only thing I would do different is to add some hot pepper sauce to the mix(it was a little bland for our taste. I would also maybe add some mushrooms. enjoy!

This recipe was easy to make and my kids loved it.
Heat oil in skillet. Add hash browns, onions and green peppers. Cook until potatoes begin to brown. break eggs into bowl and whisk.
Spray a 9" x 13" pan with vegetable oil spray. Spread potato mixture in bottom of pan. Top with ham. Pour eggs over all and season with salt and pepper.
Gently stir to coat all ingredients with egg. Sprinkle with shredded cheese. Cover with foil and refrigerate overnight.
Bake, covered, for 25 minutes at 375 degrees. Remove foil and bake 5 minutes longer.