Hasa Al Hummus -- Moroccan Chickpea Soup
luvcookn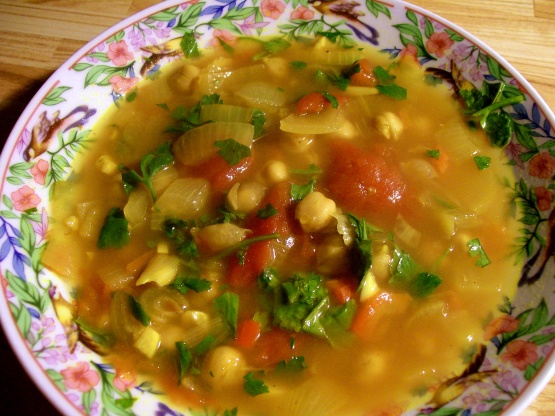 Hasa Al Hummus is a wonderful Moroccan vegetarian soup for a comforting winter warmer. Morocco adores her soups though there are not a million varieties. Many recipes online may taste good though are faux or Moroccan "style" soups. I can guarantee that from me what you get is completely authentic Moroccan fare. I owe this to those interested in Moroccan food/cooking that is authentic. This is a very simple basic soup as most Moroccan foods are. Go to a touristy, especially a fancy one, spot and you will get French food with Moroccan influences; not how we eat every day. We eat Moroccan food perhaps with a French influence or two though never vice versa. My housemaid Nasiha who is approximately 60 taught me this recipe. I say approximately as many in Morocco do not know their birthday. Whip this up like we do and enjoy! In a pinch you can use canned chickpeas. They are acceptable, merely omit the first cooking hour. As an aside, here, hummus is the word for chickpea, not the dip/spread.

I made this just as written except I added double the parsley and no cilantro because I forgot to purchase it. It was fantastic! The flavours are surprisingly complex and I found both the heat and the acidity to be right on. It was easy to prepare, inexpensive, and healthy! A winner!
In a soup pot combine the chickpeas and water and bring to a rolling boil. Cover, reduce heat to medium and cook 1 hour.
While the beans are cooking, heat the oil in a skillet and sauté the onions, garlic, and hot pepper (we use a small straight pickled hot pepper from a jar) until they barely take on color; very slightly browned.
Add the mixture and the remainder of the ingredients to the soup pot and simmer 1 hour or until the chickpeas are soft. You don't want a "bite" to the chickpeas but firm and creamy.
NB: The preparation time does not include soaking the chickpeas.