Harvest Pumpkin Cheesecake
HisPixie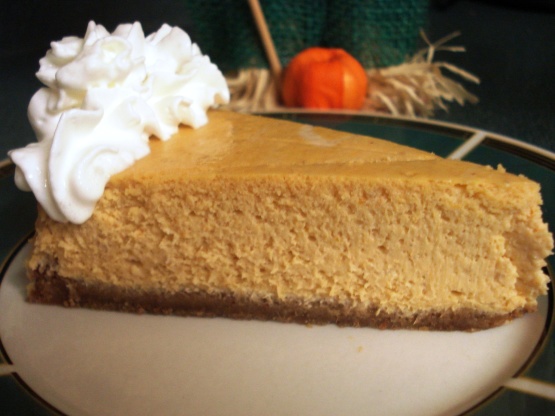 Made 3 changes for the recipe: Increase crust to 2 cups ginger cookie crumbs, 2 Tablespoons sugar and 7 Tablespoons butter. I LOVE crust!!! Also added 1 Tablespoon of corn starch. I'd read it helps prevent cracks and it really worked! Finally I baked it at 325, for about 10 minutes longer. Also to prevent cracks.

BUT I always get asked for the recipe and people always request me to bake this. In fact, I have one in the oven right now!!!!
In a small bowl, combine cracker crumbs and sugar; stir in the butter.
Press onto the bottom and 2 inches up the sides of a greased 9-inch springform pan.
Bake at 350 degrees for 5 minutes.
Cool on a wire rack.
In a mixing bowl, beat cream cheese, sugar and vanilla until smooth.
Add eggs, pumpkin and spices; beat just until combined.
Pour into crust.
Place cheesecake/pan in a large rectangular baking pan filled with 2 inches of hot water; place in a 350 degree oven and bake for 1 hour or until center is almost set.
Remove cheesecake from oven and water-filled pan and cool on a wire rack for 10 minutes.
Carefully run a knife around edge of pan to loosen; cool 1 hour longer.
Refrigerate until completely cooled (center will fall).
Remove sides of pan just before serving.
Garnish with whipped cream.