karen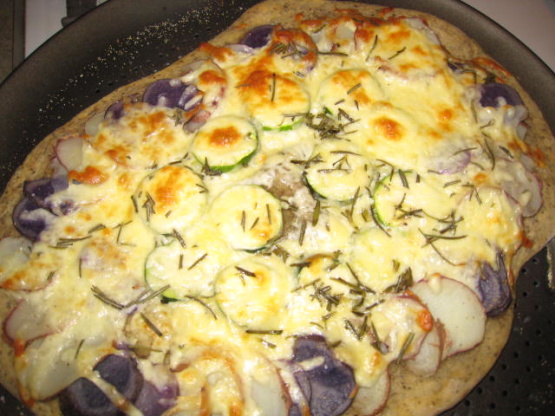 I got this from a newspaper that was used as filler in my Fall Swap package. It looks really yummy in the photo on the newspaper page. Haven't tried it yet, but hope to soon.

Top Review by karen
Nice combination of flavors, and an easy dinner too. I actually used zucchini instead of winter squash, and a combination of red & purple potatoes. I did think that the cheese overwhelmed the other flavors...and I love cheese. Next time I would cut back on the cheese so you could taste everything else, and maybe use a pesto sauce as a sauce instead of just olive oil. Still, the overall idea is a good one.
Preheat oven to 450 degrees F. Bring a large sauce pan of water to a boil. Scatter the cornmeal evenly over a baking sheet.
On a lightly floured work surface using a rolling pin to roll out the pizza dough to roughly 12 inches round. Transfer the dough to the prepared baking sheet and set aside.
Once the water has come to a boil, add teh potatoes and parboil for 2 minutes. Use a slotted spoon to transfer them to a kitchen towel or several layers of paper towels to absorb excess water. Repeat this process with the squash.
Coat the pizza dough with the olive oil, then season with salt and pepper. Arrange the potato slices in an overlapping circle along the outside of the dough. Arrange the squash slices over the center of the pizza. Season again with salt and pepper.
Spread the cheese evenly over the pizza, then sprinkle the rosemary. Bake for 15 to 20 minutes, or until cheese is lightly browned.