MA HIKER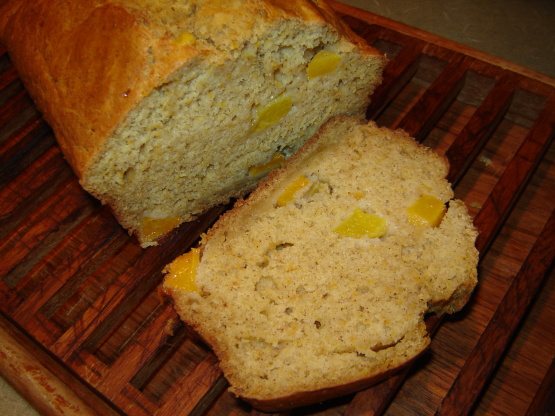 I created this recipe after peach-picking with my sister-in-law.

The baking time is inadequate for this size loaf. I baked it for almost 75 minutes at 350*, inserted a toothpick (which came out dry) but due to the size of the loaf it was unable to reach the half baked bottom. This would have worked if two 9X5 pans were used instead of one. What a tremendous waste of peaches and ingredients. I should have known when several previous reviewer noted issues with baking time. The taste of the baked portion was mediocre at best.
Preheat oven to 350 degrees.
Combine flour, baking powder, baking soda, cinnamon, ginger and cloves in small bowl. Set aside.
Combine pureed peaches and sugar.
Add oil, eggs and vanilla extract. Mix well.
Add flour mixture about 1/2 a cup at a time, combing well after each 1/2 cup added.
Fold in diced peach.
Pour batter into greased 9 X 5 loaf pan.
Bake at 350 for 50 minutes.
Cool, cut and enjoy!