Rita1652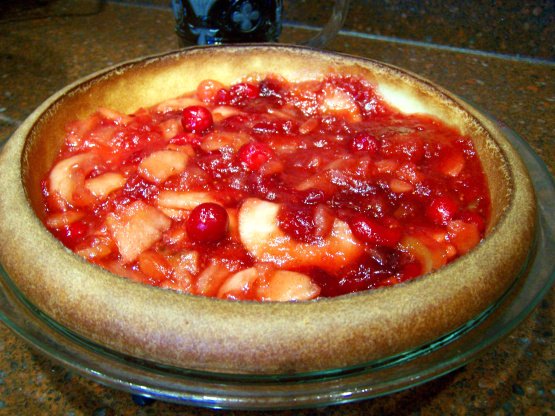 Pancakes topped with cranberries, apples and walnuts sauteed in a butter and spice mixture.

This makes an instant pie crust. The side fill up along the pie dish and the center stays low. Just fill it with this tangy fruit mixture and walla a delish breakfast brunch or dessert. I used my Recipe #259671 making this very easy for me. I just added cranberries to the apples and heat till berries softened. Added 2 tablespoons brown sugar. Thanks!!!
Preheat oven to 400ºF.
Grease a 9-inch pie plate.
Combine all batter ingredients in a medium mixing bowl.
Beat using an electric mixer for one minute.
Pour batter into prepared pan.
Bake for 20 minutes or until golden brown.
Cook all filling ingredients in a skillet until cranberries and apples have softened.
Remove pancake from oven.
If center has puffed, place a clean potholder or dishtowel on top and gently push down.
Spoon filling into center of pancake.
Serve immediately.