Harvest Moon Pasta - Rachael Ray
Calee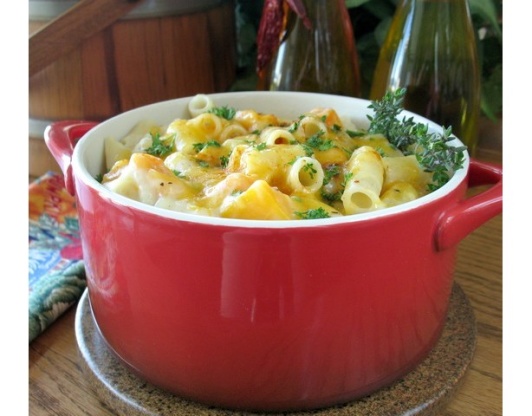 This is a Rachael Ray recipe. This is so good, I just had to sit down and post it. A few modifications: I used ziti, 2% milk, a mexican blend of cheese and quite a bit of sriracha hot sauce. I omited the thyme, simply because I forgot it. It looks and feels like I'm eating creamy mac and cheese, but its better and more sophisticated...and comforting. I usually shy away from her recipes because they have too many ingredients and take way longer than she indicates. I relented as I had all the ingredients on hand. Yum-O. seriously.

Yumm-o! Made exactly as the recipe stated except for the addition of some leftover ham cut into cubes. Delicious! Next time I'll cut the pasta to a 1/2 lb because this wasn't as "saucy" as we like but that's just us and no reflection on the recipe. Next time, towards the end of cooking, I may add some frozen peas for a nice splash of color and nutrition. Thanks so much for posting this!
Bring water to a boil, season with salt and cook macaroni to al dente.
Preheat broiler and place rack in middle of the oven.
Heat the extra-virgin olive oil in a sauce pot over medium heat, saute onions and garlic until soft, 6 to 7 minutes and stir in the thyme.
Scoot onions off to side of pan and melt butter, whisk flour into butter and combine whisk 1 minute then whisk in stock and milk, season sauce with salt, pepper and nutmeg, and cook until thickened, about 3 to 4 minutes.
Stir in butternut squash and a few dashes hot sauce. Reduce heat. When sauce comes to a bubble, stir in Parmigiano. Combine the sauce and macaroni, transfer to a casserole dish and top with shredded yellow Cheddar, chopped parsley and paprika. Brown the macaroni under broiler, 4 to 5 minutes until brown and bubbly.