Harvest Grain Blend for Bread
jenne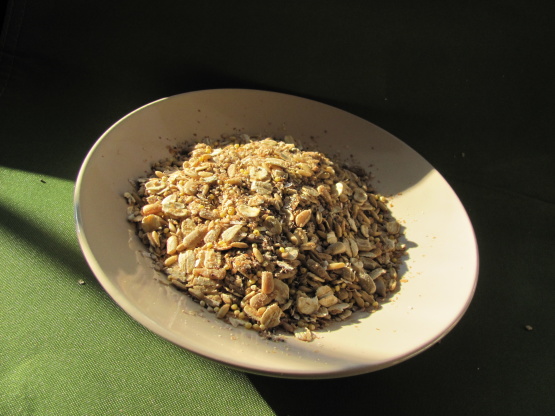 I was inspired by the Harvest Grain Blend that King Arthur Flour sells, but being in Canada, the cost of shipping is prohibitive enough to make me come up with my own version. Add 1/2 to 2/3 cup to your favourite bread for extra crunch, flavour, and nutrition! I suggest replacing 2 tbsp of each cup of flour with the mixture as a starting point. I've also added some barley flakes and 7 grain cereal to my mix. Store in a tightly sealed container. Another way to use the mix is to make a "soaker", which you do by pouring 1 cup of hot water over 2/3 cup of the mix, and allowing it to soak overnight. Then add this to your bread mix, ensuring to subtract out the 1 cup of water and 2/3 cup of flour from the recipe you're working with.

Delicious and nutritious! I did the overnight soak method and used it in my recipe #380260, so now my innocent wheat bread is on the equivalent of steroids! lol! Thanks, Katzen! Made for Veggie Recipe Swap.
236.59

ml rye flakes

236.59

ml wheat flakes

236.59

ml whole oat groats (also known as oat berries)

236.59

ml millet

236.59

ml barley (barley flakes, not barley) (optional)

236.59

ml seven-grain cereal (optional)

118.29

ml flax seed

118.29

ml poppy seed

118.29

ml sesame seeds

118.29

ml sunflower seeds
Mix all ingredients together. Store in tightly sealed container.
To use, substitute mix flour, using 2 tbsp per 1 cup of flour. To use soaked (which will make it less crunchy, and more chewy), add 1 cup hot water to 2/3 cup of the mix, and allow to sit, covered overnight. Ensure when adding to your flour mix to subtract the water and mix from your recipe's water and flour.