Harvest Beer and Cheddar Soup
Prep 15 mins
Cook 20 mins

A great soup to go with wursts and other sausages, as well as potato skins, for a comforting cool weather meal.
Directions
Finely shred cheese, using grater or food processor; set aside.
Saute vegetables in butter in a saucepan with garlic until tender but not browned.
Add flour and mustard, stirring to coat.
Gradually add the broth and cook until slightly thickened.
Add the Tabasco and cheddar and cook, stirring constantly until blended, but do not boil.
Remove from heat and stir in the beer and season to taste with salt; reheat soup to serving temperature, but do not boil.
Reviews
Most Helpful
This had a great taste! I used a vegetable broth instead of chicken broth to keep it vegetarian, and use Warsteiner for the brew. My only problem was that my cheese didn't melt very well - I used a finely shredded sharp cheddar?!? I think this would be an excellent recipe to experiment with, too - different beers and cheeses (hey, two of my favorite things!) ... Thanks SueL!

My BF and I really enjoyed this soup, definitely a 5 star. I did, however, make one fairly major revision, which was to reduce the stock (I used vegetable) to 4 cups. As I added the stock, I could see it was thinning out and the flour would not thicken it any more. Other changes included using less butter, low-fat cheese, lite beer (Beck's lager) and more hot sauce:) I've had bad experiences with recipes when I used strong tasting beers, but with Beck's I knew this recipe would work. I love beer and cheddar combinations, and I would definitely make this recipe again. Thanks Sue!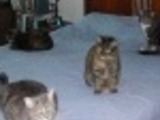 I loved the concept of this soup, but I think I need to try it again when I find a suitable combination of cheese and beer. The beer I used turned the whole thing bitter and the cheese was too mild. I used vegetable broth because I had it on hand, but next time will use chicken broth. I liked the color of red pepper and carrots in the creamy cheesy broth.